The Adobe Hacienda Experience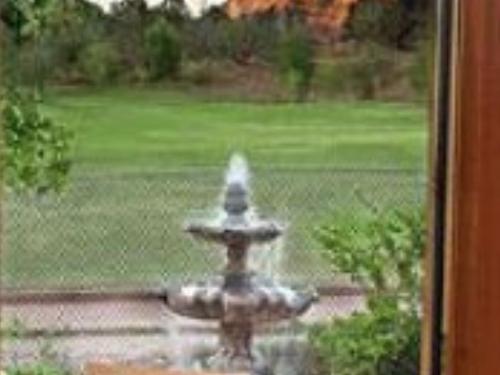 Located on "The Scenic Byway" in The Village Of Oak Creek just a few minutes outside of the city of Sedona in Northern Arizona, lies Adobe Hacienda – a marvelous jewel among bed and breakfast Inns in Arizona.

In the morning, wake up to our two-course gourmet breakfasts, starting with a creative seasonal fruit plate, homemade granola parfait, or smoothie, followed by a cooked entree that changes daily, such as our ever popular Huevos Rancheros or perhaps our healthy twist on Eggs Florentine. All of our dishes are vegetarian friendly. Herbs fresh from our garden are used in our dishes, as well as local produce when available. Breakfast is served each morning at 8:30 am for all guests giving them a unique social start to the day.

Guest can enjoy recipes of our Southwest Blue Corn Pancakes, Adobe Baked Bananas and Sedona Fruit Smoothies!

Step into the Great Room, with Mexican Saltillo tile floors and a wall of windows overlooking the Red Rocks as well as the manicured golf course. Enjoy the scenery while you eat breakfast during the warmer months outside on the flagstone courtyard next to the fountain, or inside the dining room during the winter.

The Great Room in our Arizona Bed and Breakfast is a wonderful gathering place in the afternoon where you can pick a book from our library and curl up on the couch near the fireplace. Perhaps you'd rather relax with a drink outside by the fountain and admire the gorgeous scenery. Or, pick out a book or video and take it back to your room–we have a myriad of guidebooks and hiking guides about Sedona!

Coffee and tea is available 24/7.
You may want to just sit back on our red rock patio by the Mexican fountain and enjoy the splashing water and variety of fascinating wildlife to be seen. We are always watching sparrows, ravens, robins, and finches coming and going from their nearby nests, or spotting roadrunners, cottontail rabbits–even occasional javalina or coyote as they make their way across the adjacent golf course. Known to be in the area are also bobcats,mountain lions, and deer.You will love the breathtaking views of Sedona's famous red rocks and the golf course practice area from most all of our windows.

Outdoor enthusiasts are sure to appreciate the myriad of activities in the Sedona area. The hiking, biking and horseback riding trails of the National Forest are right down the road. We are always excited about sharing the many activities available, and will gladly help you plan your day.

We can arrange for tours and activities, show you the best trails, explain all about Sedona's world-famous vortex spots (one is very nearby!), make dining reservations, set up tee times, even a day trip to the Grand Canyon, you name it. We'd love to help!

There are many fine galleries and shops in town, as well. For a complete list of things to do in Sedona, please see our Activities page. We can make arrangements for you for any of these activities while in Sedona.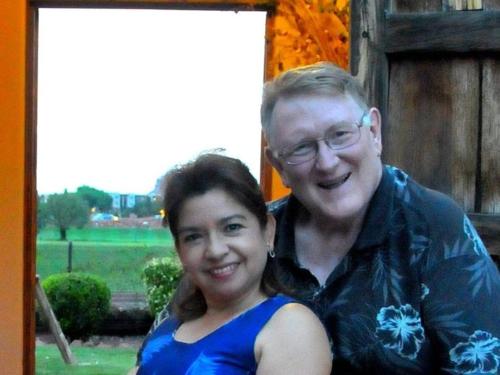 Russ and Aurora Mulder, the owners of Adobe Hacienda Bed and Breakfast, are very excited to be taking on this new challenge in their lives and look forward to serving you as one of their guests in the future.

Both of them have come from the professional and corporate world. Russ was an Architect and Engineer in the Insurance business for over 30 years. Aurora is a Chemist and has taught at the college level for over 20 years. Russ received his MBA from the University of Chicago and Aurora received her MBA from the University of the State of Mexico. They met when Russ was on foreign assignment in Mexico.
Both Russ and Aurora have worked in customer service and will be living full time on the property and running the business. They both fell in love with Sedona for its natural beauty, variety of outdoor activities, diversity of the population and for the overall tranquility of the area.

Their focus will be on making your experience at the Bed and Breakfast and in the Sedona area, the very best it can be. From serving gourmet two course breakfasts to assisting in making reservations for activities or restaurants, they are available to help.

Please feel free to contact them to discuss any special needs or requests you may have. They look forward to seeing you in Sedona very soon.