Organic Blue Cornmeal
3/4 cup blue corn meal

3/4 cup flour

2 Tsp. baking powder

1/2 Tsp. salt

3 Tblsp. sugar

1-1/2 cups milk

3 eggs beaten

3 Tblsp. oil
Combine milk, eggs and oil. Add to dry ingredients. Blend until smooth. Serve 3"-4" pancakes topped with blueberries, raspberries and blackberries and whipped cream. Or serve with butter and maple syrup or (our favorite!) prickly pear syrup. Makes approximately 20 pancakes.
Adobe Baked Bananas
Serves 6-7
6 ripe bananas, sliced thick

1 ¼ cups orange juice

1 tsp vanilla extract Mix these next ingredients together:

½ cup all purpose flour

½ cup quick cooking oats

½ cup brown sugar

½ tsp nutmeg

½ tsp salt 6 tbs. Butter
Preheat oven to 375 degrees. Slice bananas thick and place in one cup size ramekins (one banana per person).In measuring cup. Combine orange juice and vanilla, pour over bananas.In mixing bowl, combine oats, brown sugar, nutmeg, salt and flour. Cut in butter until mixture resembles small peas. Spoon crumble mix evenly over fruit.
Bake 20 minutes.

Serve warm with whipped cream.
Ingredients for 10-12 12 bananas
2 cups orange juice

2 tsp vanilla extract

1 cup flour

1 cup quick cooking oats

1 ½ cups brown sugar

1 tsp nutmeg

1 tsp salt

12 tbs. butter
Sedona Fruit Smoothies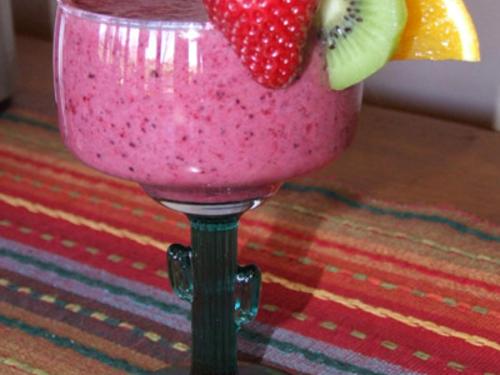 2 bananas

6 ice cubes, 2 tbs.Agave nectar

2 cups orange juice

1 cup Mountain High (or other gourmet brand) low-fat vanilla yogurt

3/4 cup mixed blueberries, raspberries and blackberries (or substitute strawberries)
Mix all ingredients in blender until smooth. Serve in margarita glasses topped with a slice of strawberry, dab of whipped cream and sprig of mint. Serves 4-5.
Ask us for the recipe of any of our other breakfast dishes when you're here at the inn!